Business Information & Registration
The first release of new business partners will be deployed into the App at the start of May 2020. We are therefore looking to complete these registrations during May. This listing within the app at this stage is completely complementary, as we are focused on building only the best content. We do however ask one thing to help us increase awareness:
"Once your RoadCard is listed, you share this to your own user community across your social channels"
If you have received an email invitation or are interested to proceed, the first step would be to download the app, and create your own user account. Next, complete our registration form by clicking the link below and we will be in touch as soon as your RoadCard is created inside the app.
We are incredibly excited about creating the first travel app dedicated to the petrolhead community, and really hope you can become part of this community as we take the community to the next level
Mark & Steven
Co-founders of the Ultimate Drives App
& official petrolhead driving enthusiasts!
Welcome to our Ultimate Drives App – an app that was launched for driving enthusiasts, by dedicated petrolheads Mark and Steven, having spent the last 10+ years driving the best roads across Europe.
The app reflects these journeys, and contains the greatest driving roads, as well as automotive hot-spots across Europe. This is high quality, content our users interact with when planning days out or even longer road-trips.
During 2020, we plan to broaden the scope of content to also include business listings showcasing places to visit, experiences to enjoy and the most exciting automotive products and services out there right now. An overview of how this community will look is shown below.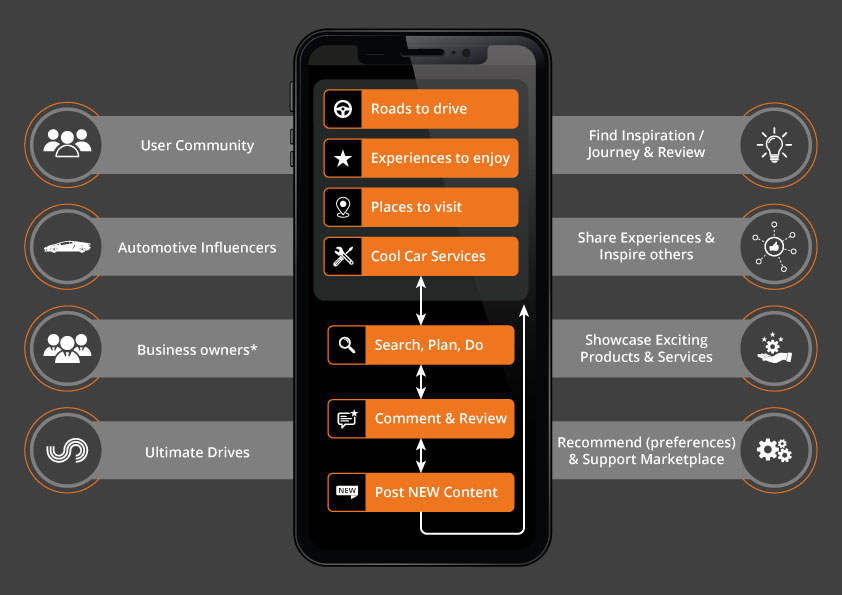 Business Listings – Our Recommendations
When it comes to our Business Listings, we are only looking to showcase the very best in their respective area / location to ensure the platform maintains it's high quality content that keeps our community engaged. Once loaded, your business will be featured alongside our roads and places to visit, in other words a recommended service.
Business Listings – User Experience
For users, the app is designed to Inspire: find things to do, places to go, experiences to enjoy and well as great automotive products and services!
Each business added will have it's own dedicated Account and RoadCard – for the users these RoadCards will sit alongside all other content, such as Roads and Places to visit. That means they will feature in all Lists / Maps and users Searches, and will also be showcased in the main Activity stream. All RoadCards in the app are categorised by a Type (e.g. Great Roads, Track Days, Car Wraps) which therefore allow easy research and look up based on what the users is interested to see or do.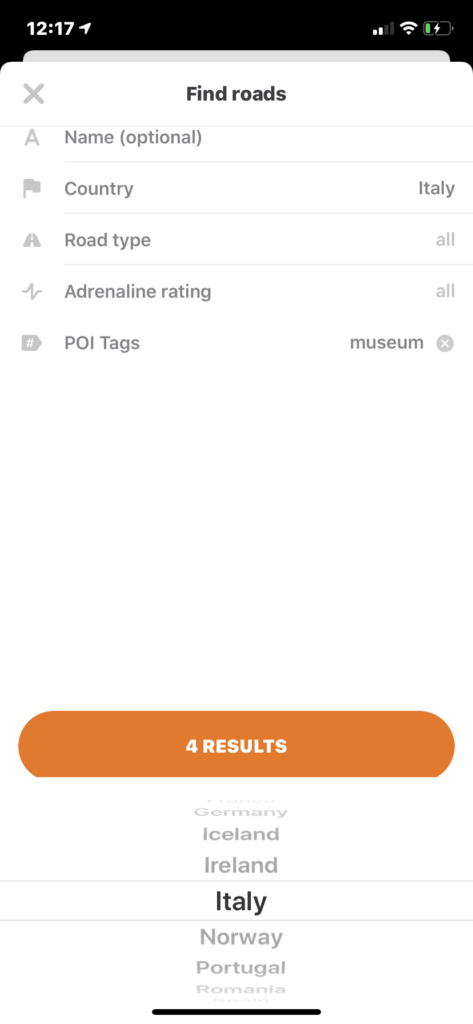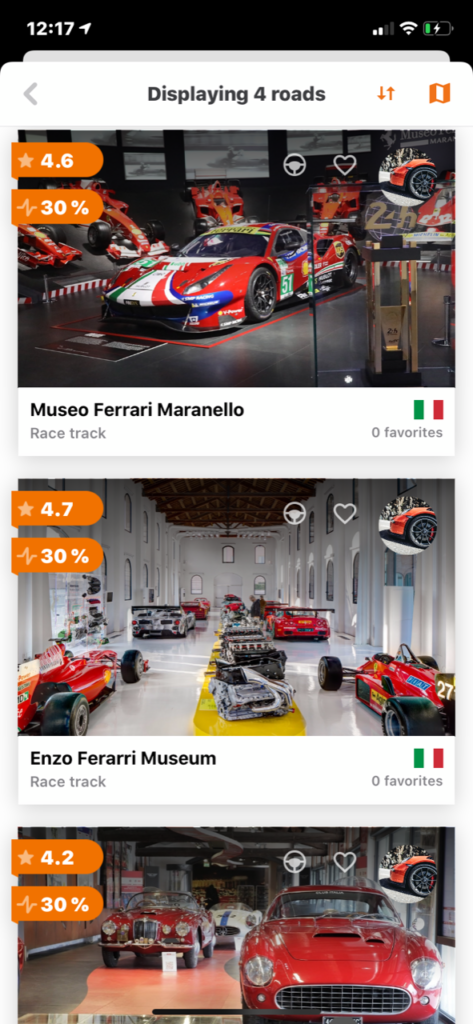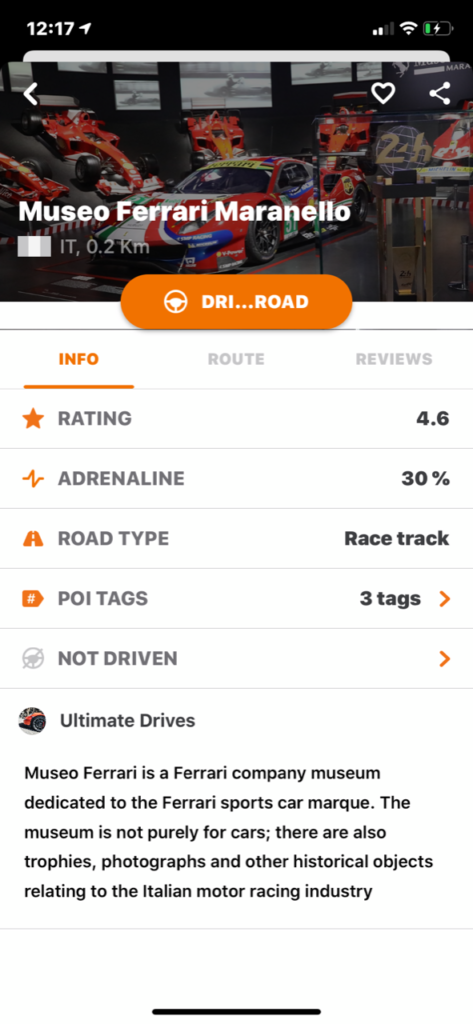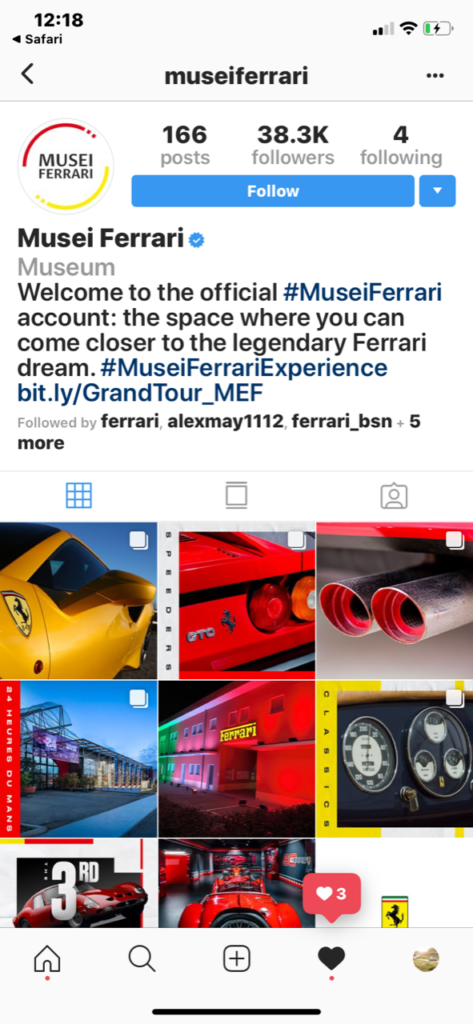 For example, a user logs into the App. They then head to the Discover Area where all Roadcards are listed, sorted by proximity to the user – to see what's going on near to them. The user can then refine a search using both filters and tags, for example "Experiences" and "Track Days" Once they find something of interest, they can click on the RoadCard, find out more information, and add to Favourites, then at a later stage plan their trip.
Business Listings – Your Experience
Once listed, you will have your own Business Account inside the App, which will provides a general overview of your business details, as well as back links to all of your social channels such as Instagram and Facebook.
Linked to this Account, for each of your locations, you will have a dedicated Geo Tagged RoadCard. The RoadCard contains more detailed information about your local service, such as address, the kind of service plus images and other information. This RoadCard will then feature in all of our maps, searches and even the main Activity stream which allows users to search / locate.
All interactions with your Account & RoadCard can be tracked inside the app, and statistics shared with you, so you can see the levels of engagement as these grow over time.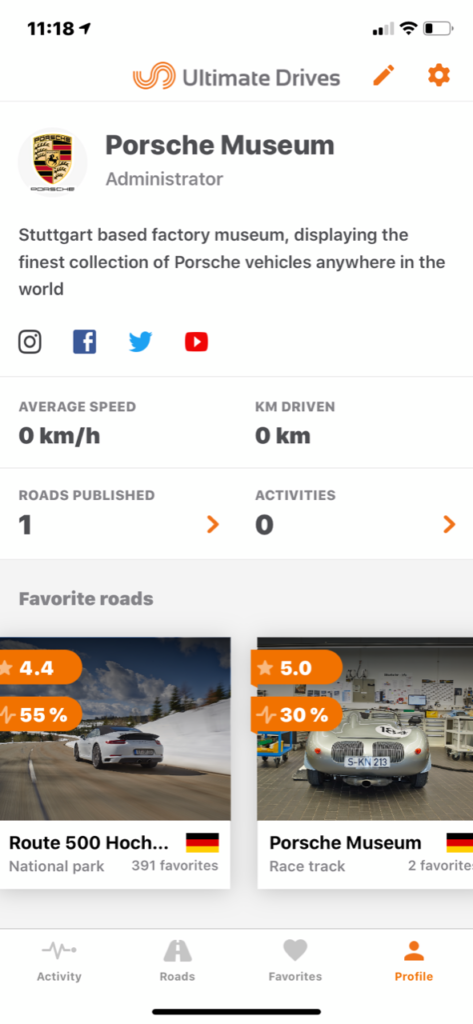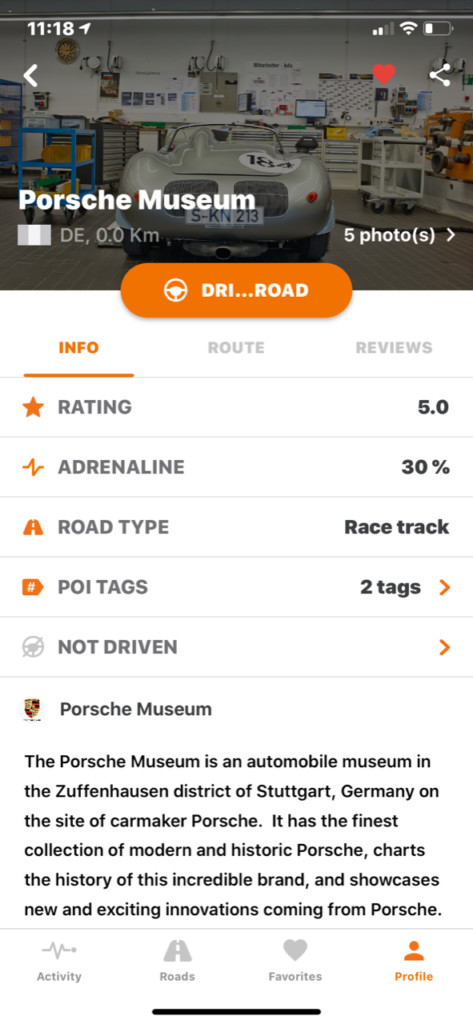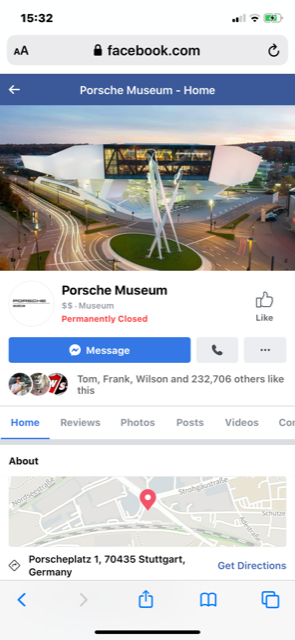 Furthermore, there is also an element of pro-active suggestions made by the app i.e. users don't just have to search for your business to find it. Two examples: if another user used your service and posted a review, this appears in the main Activity stream. Also, if the user Favorites or Reviews a similar kind of experience or service, we might highlight your RoadCard under the Recommendations within their Discover area of the app.
Finally, although this is not intended as a Social App (we know it's already a lot of work maintaining channels such as Facebook) you can still make occasional updates to your Roadcard (pictures, summary of servics etc) which will then prompt the RoadCard to be re-posted into the main Activity stream, just to keep the community aware of what you are up to.
Our Growing & Engaged Community
We have a highly engaged community inside the Ultimate Drives app, which we plan to grow dramatically during 2020.
Currently the app has more than 30k downloads, and 25k Accounts. By the end of the year, we anticipate more than 200k Accounts. This growth will be achieved as we work with our partners and leading Influencers to increase awareness – for example, we are now working with Shmee150, who is already posting content and sharing with his community.
Our users look for us to offer guidance and advice and help inspire them to plan new journeys and adventures. Just as we did with our driving roads, we plan to only feature the very best with our business listings
This helps us to increase awareness, but at the same time, makes your followers aware of the app, which we think is perfect for the kind of petrolheads we are sure you already interact with on a daily basis.